"Hello! BOOP BOOP!"
If you don't recognize this intro, that means you don't know about My Drunk Kitchen, and it's fantasmic creator, Hannah Hart…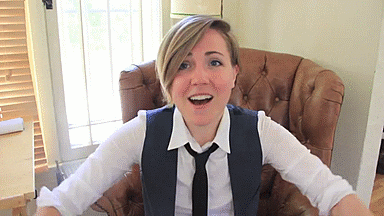 …I am sad for you…
But I won't be sad for long because, after this post, you WILL know who she is!
Relieved? Me too.
Hannah who?
Hannah Hart is the star/creator of My Drunk Kitchen, which started as a video made for a friend, which eventually turned into a thing where she made various food in her kitchen while drinking and posted videos of her shenanigans and many puns (she's a punny lady…too much?…ok…).
Over time her channel on YouTube became increasingly popular, and after a few seasons, she even went across the US to cook with people in their homes and volunteer at various food pantries in the towns she visited with her fans.
Since then, she has written a book and done some other awesome things, but seeing as I don't want to be a creepy know-it-all, I thought I'd leave it up to you guys to check out her accomplishments on your own time (it's not like I have hours to do ridiculous things like research YouTube celebrities…I'm too busy watching their videos and making costumes of them!).
Needless to say, she's a pretty cool chick. So cool in fact, I decided to create a costume based off her for my Month of Masquerades this year!
This was fun to make, and it was fun to do too! Because who doesn't love getting drunk while cooking!
This actually stemmed from a wig I purchased a while ago that turned out to be totally different than expected, and my immediate thought was "Hello!", followed by "Boop boop!".
My "Pumpkin Rice Krispie Treats" are missing the orange pumpkin quality because I forgot to get food coloring…but they're still delicious Krispie Treat blobs with Tootsie Rolls!
It wasn't hard after that to gather my required items to create a Hannah Hart costume.
Costume Pieces
Hat
Blonde, slightly Beiber-ish hair (aka said wig)
Glasses
A t-shirt or plaid button up
Drunk
Kitchen
…Nailed it!
I suggest the best way to get the most out of this costume at a party is to hang out in the kitchen while drinking and cooking random things. Nothing could possibly go wrong with that, right?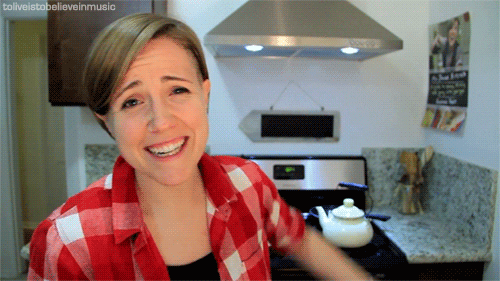 Just don't forget to greet everyone who walks into the room, and you'll be golden!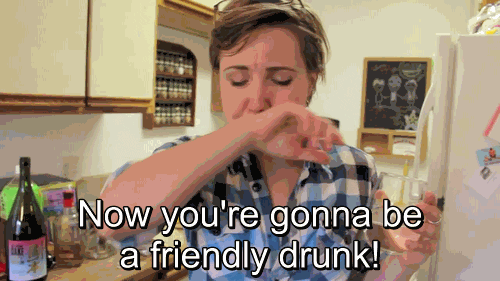 I hope this idea not only made you laugh but helped introduce an inspirational woman.
Also, here is the recipe I tried to make while getting drunk in my own kitchen (I forgot to get food coloring, so my "Pumpkin Rice Krispie Treats" are just Rice Krispie treats with tootsie rolls sticking out of them…strange looking, but still delicious).
You're welcome!
If you haven't already, make sure to click on some of the links in this post and check her stuff out (or just follow this link for one of my favorite episodes from Season 1)!