A couple of years ago, my friends and I went to a Halloween party dressed as the characters from Fight Club. We looked amazing, if I do say so myself. I did the makeup for our "Jack", so well in fact, when we got home, her Father jumped and asked what happened to her – A good sign you've done an accurate black eye.
Also accurate was my representation of Marla, in which I was a complete mess. Of course, that was due to the food poisoning I got right as we arrived at the party – so not quite the intentional mess I had been going for. This is also why there are no pictures from that night.
Seeing as this has become a cult classic, and has so many memorable quotes, it makes for a fun costume idea.
Our narrator is actually pretty easy to put together, so it's one of those great "I don't have a lot of money to put a costume together" looks. If you have a white button up, a tie, makeup, and paper/pen/tape on hand, you're golden. Or if you want to get a button up from the thrift store that you don't mind ruining, all the better.
Costume:
First step: add blood to your collar – there are a number of ways to do this. Seeing as I didn't want to ruin the shirt I had, and didn't have time to buy another, I just used red sharpie on a piece of tape, covered that sharpied tape with another piece so it wouldn't smear on my fingers/clothes, and stuck the tape on the collar. Something I learned during this process- if you're going the tape route, try not to use a shiny tape-it shows up more easily in photos.
If you don't care about the shirt, splatter paint, nail polish, or whatever you have on hand on the collar. You can also get fake blood from the costume store and use that if so desired.
Throw your tie on – don't worry about making it look too good, you did just get in a fight after all- and the hard part of your costume is done.
Narrator Makeup: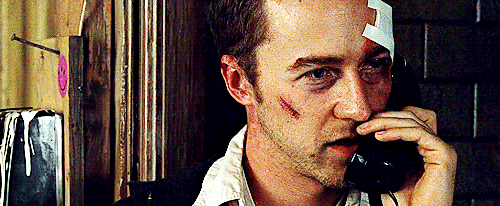 The classic fight look – black eye, cut under the eyebrow, scrape on the forehead, and a bloody lip and nose. Oh, and don't forget the bags under your eyes.
I started with pink eyeshadow in the corners and under my eyes, on the side of my nose, above my eyebrow, below one nostril, and on the side of my lip. I went in with a light purple shadow to add more depth.
Create bruises with a combination of blue, dark purple, and green around one. This also works to create a broken nose/bruised lip. Don't forget to highlight with yellow.
Use red lipgloss, applied with a thin brush, under the nose, above the eyebrow, and around the mouth for dried blood.
Ta-da! This is probably the easiest makeup look I've done because it's better if it looks messy. You could even create a five o'clock shadow if you're feeling adventurous…or you know…grow one if you have the ability.
I am Jack's inflamed sense of rejection…
The great thing about this costume is you can easily turn it into a duo or group look. Tyler Durden can have similar makeup, but don't forget his chipped tooth if you're going for the full look. For costume ideas, try the combination of his signature sunglasses and a fun bath robe. Or, go for his slightly unbuttoned collared shirt and red leather jacket look. Oh, carrying around a briefcase full of soap gets you additional points.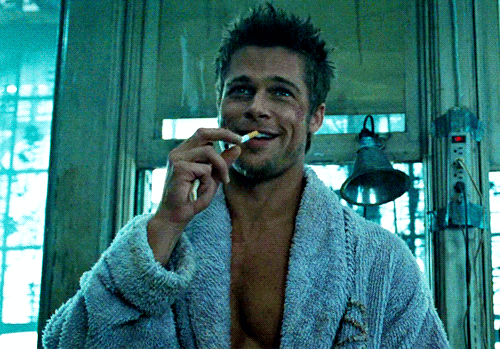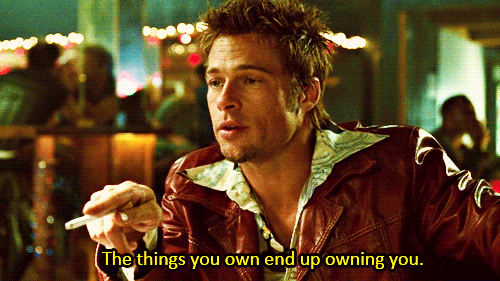 For Marla's costume, you can't go wrong with her pink bridesmaid dress. Extra points if you get yours from the thrift store like she did. Her other widely recognized outfit is the black dress and open black suit jacket. Throw on a pair of shades, large black hat, and a "Hello my name is: Marla" badge to complete it. Don't forget her wild hair, no matter what costume you choose.
When creating any of her looks, do your makeup with the opposite hand you usually use. This will ensure that it won't look too good. Not to mention, its how the makeup artist for the movie did her makeup. Her makeup seems to be pretty similar for every outfit she wears: purple or gray eyeshadow and black eyeliner. And no matter the outfit, she is rarely without a cigarette in her hand.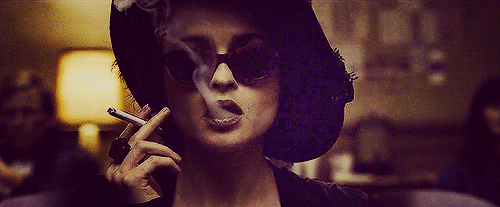 But really, don't worry about it too much, because the less you care, the more in character you'll probably be.
Just remember, "We are all part of the same compost heap."